First, a great big THANK YOU to everyone who braved the Gainesville monsoon to watch GRR take on the Bradentucky Bombers' Nuclear Bombshells last night.
It was an exciting game to say the least. We're stoked to announce that GRR took it home with a final score of 113 to 93 — OUR VERY FIRST WIN! Thank you to Bradentucky's Bombshells — we'll see you ladies at your house in August!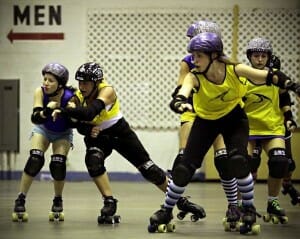 Gainesville Roller Rebel Lauren Schaffer, left, gets bumped by Lauri Frierson during a scrimmage Wednesday afternoon.
The team competes at the Alachua County Fairgrounds.
Also, thanks to GRR's skaters and our dedicated volunteers for making this derby thing a reality every time. Read more about GRR in the latest article from Sunday's Gainesville Sun. (Please note: This was not our "last game of the season" — that headline is incorrect.)
See you back at the Fairgrounds in July, when GRR takes on Fort Walton's Beach Brawl Sk8r Dolls!