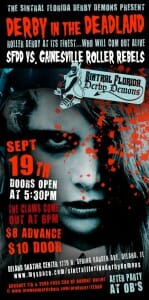 On Saturday, Sept. 19, head to "Deadland" for some serious derby action: GRR vs. SFDD's Sinners at DeLand Skating Center (1779 N. Spring Garden Ave., DeLand)!
Doors open at 5:30 p.m. and the action begins at 6 p.m. Tickets are $8 in advance from brownpapertickets.com or $10 at the door. (P.S. If you live in the DeLand area, pick up a Sintral Florida Derby Demons annual pass at brownpapertickets.com.)
And the action doesn't stop when the bout ends… Join the ladies after the bout at OB's Restaurant & Lounge (1750 N. Woodland Blvd.) for the after-party!