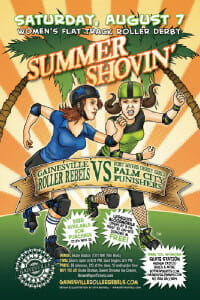 August 7, 2010: "Summer Shovin'"
FINAL: Ft. Myers Derby Girls' Palm City Punishers 112, Gainesville Roller Rebels' Swamp City Sirens 97
Bout recap by Ferg Shagnasty
Despite a furious second-half comeback, the Gainesville Roller Rebels lost to the undefeated Palm City Punishers 112-97. The Rebels had won two out of their last three heading into this bout, their only loss coming from this same Ft. Myers team (155-108).
FIRST HALF
At the start of this one, it looked like GRR was going to get their revenge. Roll It Up (420) started off the bout scoring three quick points, and Gainesville was out to a 3-0 lead. But in the next jam Suzie Bonebreaker (13) was called for back-blocking despite breaking through the pack first, leaving Punisher jammer Jamsterella (111 — say that three times fast) free to score four quick ones. Suzie broke out of the box to add some points of her own before the jam ended and GRR still had the lead 7-4. Ft. Myers tied up the score on the next jam 11-11, but a penalty by Serenity Storm (413) led to a Bonebreaker power jam and the Rebels re-took the lead 19-15.
Ft. Myers took the next four jams, but the feisty Gainesville team managed to keep scoring points, and with 16 minutes left in the first half, GRR clung to the lead 25-21. GRR found some quick points with jammers Roll It Up, Ruby Typhoon (77) and Patsy Clothesline (3LD); and with power blocking by Rage-rienne (1122), master's graduate Block Buster (33) and Dr. PopHer (P450) GRR stormed out to their biggest lead 37-25. Ft. Myers quickly found some points of their own as Kannibal Kate (11) whipped up seven and Lil Miss Slambags (9) tacked on nine more, cutting GRR's lead to three, 44-41. It was nip-tuck the rest of the half, but with some nasty moves by Jamsterella, Ft. Myers had the lead at half-time, 61-58.
HALF-TIME NOTES
Hershall Stalker went down with an injury halfway through the period and did not return. We hope she heals quickly and wish her well.
The speed of the Ft. Myers' jammers was impressive. Even though GRR would break through the pack first, there were many times when the Punisher jammers would catch up, leaving GRR to call off many jams early.
On other jams, GRR would get through first, but get called for penalties. Jammer in the box = free points for the other team. It's also a real bummer for the audience, because it takes them out of the game.
SECOND HALF
The second half started poorly for Gainesville with the Punishers scoring 24 points to GRR's two. A grand slam by Kannibal Kate and a leapfrog by Jamsterella left the Rebels spinning and the bout was quickly slipping away. With only 15 minutes left in the second half the score was 95-63 and shades of their last matchup started to dance in GRR's heads. For the next five minutes however, Gainesville's blockers really stepped up and kept this bout from really getting out of control. Ft. Myers left many points on the track as key hits from Grizzly Madams (2nd Amendment) and Zelda Shagnasty (69) made Ft. Myers call off jams from their behinds.
The clock became Gainesville's biggest enemy, but with five minutes left in the game the Rebels turned it on and scored points in buckets. Patsy scored eight points, and Ruby extended a jam and put on a whopping 10 more, making the neon green a little antsy. Gainesville won the last five jams of the bout, taking a 108-70 deficit and trimming it to 112-95. The last jam saw Patsy give it all she had, but could only muster two and the bout ended 112-97.
It was a good showing for Gainesville, who week to week continues to improve by leaps and bounds. Down by so much in the second half, this team refused to quit and showed great resolve keeping it close. WFTDA, take notice.
CLOSING NOTES
Congrats to Aurora Nox (25) for an outstanding performance in her first home bout back from injury.
A solid ref performance this week. Their job is much tougher than it looks.
Grizzly, keep your damn elbows down; we need you more on the track than off!
A sad goodbye to Yiddish Invasion, with this being her last bout on a Gainesville track — you will be missed.
Another solid congrats to Block Buster for getting her master's degree. To quote the MC with the mostest, Glyph, these women are smart and beautiful — and they can hurt you.
MVPS
The Roller Rebels next bout is away in Melbourne on August 28 versus the Molly Roger Roller Girls.