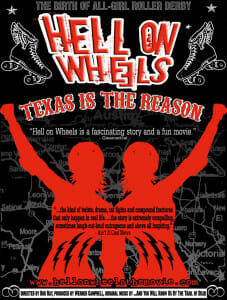 On Tuesday, November 16, join the Gainesville Roller Rebels and filmmaker Bob Ray for the Gainesville premiere of "Hell On Wheels," a critically acclaimed documentary that chronicles the new era of roller derby mania.
Beginning with a 5:30 p.m. pre-screening meet and greet and cocktails with GRR and Bob Ray, the show starts at 6:30 p.m. at The Hippodrome. Click here to RSVP to the Facebook event.
Part of Crash Cam Films' Down and Dirty Austin Film Tour, stay later for Ray's crazy new feature, "Total Badass," which kicks off at 8:30 p.m. Ray and the subject of the film, Chad Holt, will host a post-screening Q&A and will be giving away great door prizes, including DVDs of Ray's first feature, "Rock Opera" (co-starring Holt). An awesome after-party is sure to follow!
ABOUT "HELL ON WHEELS"
In 2001, a rowdy group of Austin women were determined to resurrect an old sport, but with a new spin. This is the beginning of a revolution: "Hell On Wheels" is the ass-kicking documentary film telling the story of a group of Texas women who band together to resurrect roller derby for the 21st century. Emerging from the Austin music and arts scene, these women create a rock and roll fueled version of all-girl roller derby that has spawned the derby craze that's sweeping the nation.