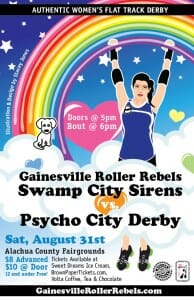 The Gainesville Roller Rebels invite you to the Alachua County Fairgrounds for some hot roller derby action! Your Swamp City Sirens will be taking on Psycho City.
Hits! Slams! Food Trucks! Cupcakes! PBR! Good times for everyone!
Doors at 5pm; bout at 6pm. Tickets are $8 in advance and $10 day-of, tickets can be purchased at BrownPaperTickets.com, Volta Coffee, Tea, and Chocolate, Sweet Dreams Ice Cream, or through your Favorite Derby Girl! Kids 12-and-under free!
RSVP on the Facebook event!
Raffle to benefit STOP Children's Cancer.