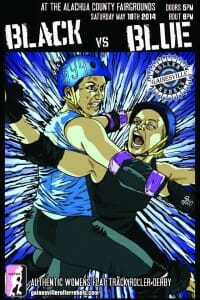 Come watch the ladies of the Gainesville Roller Rebels May 10th as they take on their fiercest opponents yet…. themselves. This intra-league bout will feature almost all of our Roller Rebels, from the seasoned skaters to our freshest vets. Don't miss this opportunity to meet our newest skaters and see our whole league at its best!
Join us at the Alachua County Fairgrounds. Doors at 5:00pm; bout at 6:00pm. Tickets are $8 in advance and $10 at the door. Tickets can be purchased at BrownPaperTickets.com, Volta Coffee, Tea & Chocolate, Sweet Dreams of Gainesville FL., Wild Iris Books, or through your Favorite Derby Girl! As always, kids 12-and-under get in FREE!
Local food truck Soup to Nuts will be there providing amazing food, and for dessert get some delicious cupcakes provided by Sarkara Sweets Cafe. And as always, beer will be available for our 21 and up fans. See the Facebook event here.