The Gainesville Roller Rebels are back at it again, and this time we're combining two of our favorite things — beer and competition— into one can't-miss fundraising event: Beerlympics 2017!
Do you have what it takes to take home the gold? <a href="https://goo.gl/forms/ZNKIaTFuB3PXdEy53″>Then sign your team up today!</a>
——
Number of people per team: 4
Theme: Any country or place, either fictional or non-fictional. Each team needs to pick a place to represent, and costumes are encouraged!
Cost: Pre-sale tickets are $50 PER TEAM (Pre-sale payments must be submitted through PayPal to treasurer [at] gainesvillerollerrebels.com). At the door, the price is $60. Bystanders pay $5. RSVP for the event <a href="https://www.facebook.com/events/1284651484944897/">on Facebook</a>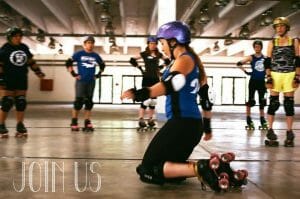 Been watching our home bouts and want to get in on the derby action?! Join the Roller Rebels for a morning of roller derby 101 where we will introduce you to the game and go over basic skating skills. NO PRIOR EXPERIENCE NEEDED! Seriously!
What do you need? Yourself, comfortable workout clothes, sneakers, a water bottle, and ***a mouthguard*** (please don't forget this, as you can't skate without it and we don't share!) You can find a cheap mouthguard at a sporting goods store or walmart. We'll provide all the other gear you need to get rolling!
Arrive early (10:15am) to get fitted for gear!
Sign up here: https://goo.gl/forms/vz2bcFJcnHkiQLkS2
The cost for this practice is $20 (or $10 if you have your own gear), which you can bring in cash on the day of or send in advance via paypal to treasurer [at] gainesvillerollerrebels.com (please note your name and the event).
Join us for a group lunch after the practice – location TBA!