Active Streets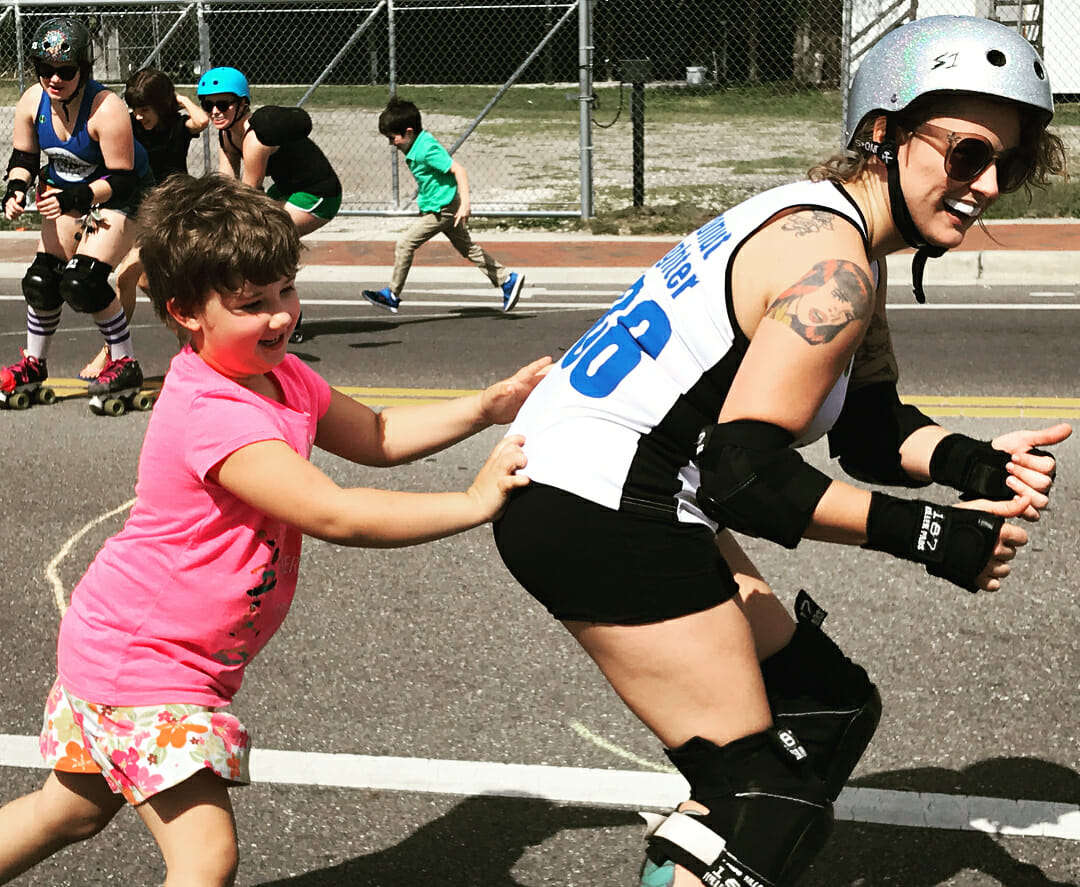 Local children push roller rebels Coconut Slaughter, Queen Slayer, and Gnarly Rae Jepsen around the track in a race during Active Streets 2018
Since the event's creation in 2014, GRR has participated in the Annual Active Streets Gainesville community event to promote healthy, active lifestyles by engaging in athletic pastimes, like roller derby.
Adopt-a-Highway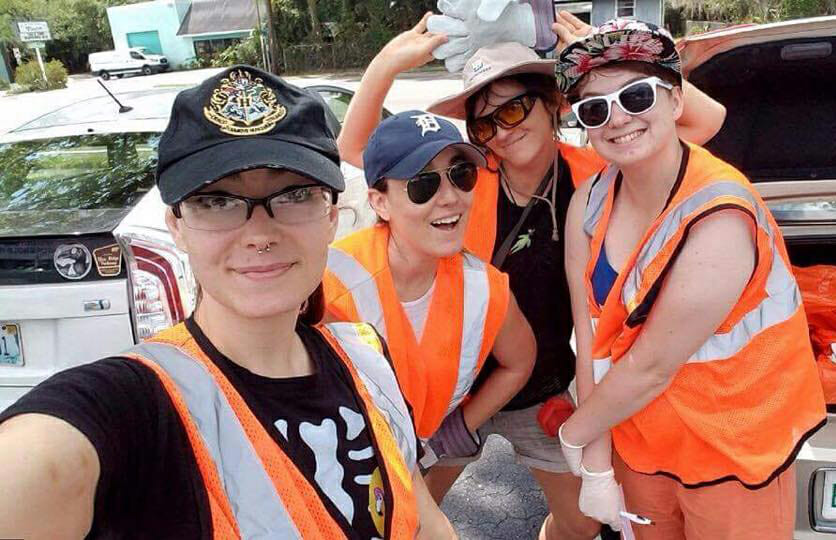 The Gainesville Roller Rebels get ready to pick up some trash! – April 16, 2017
With the Florida Department of Transportation the Gainesville Roller Rebels have annually agreed to "adopt" a two mile section of NW 6th street in Gainesville and remove litter.
Gainesville Pride Parade and Festival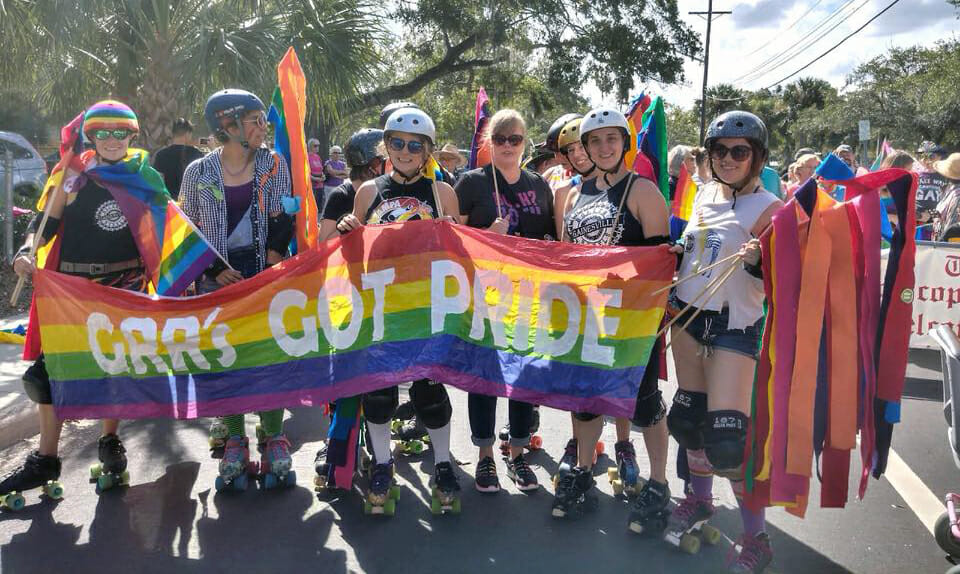 Roller Rebels skated during the the 2017 Gainesville Pride Parade and Festival
GRR participates in the Gainesville Pride Parade & Festival annually because being a part of the local LGBTQ+ community is important to us.
Gainesville Greenway Challenge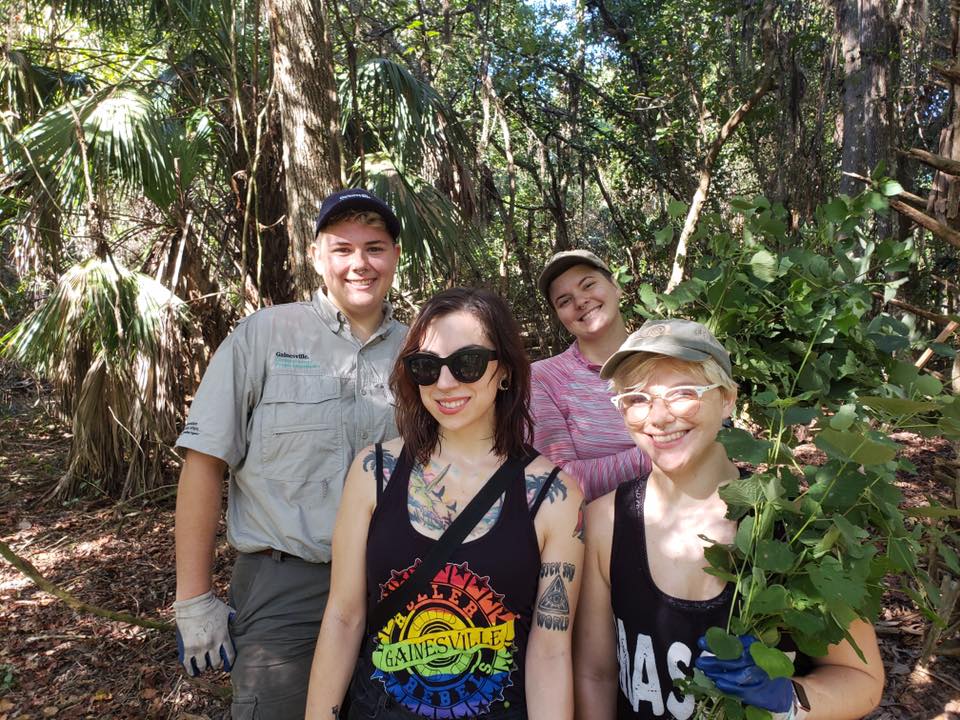 Skaters Lyka Fox, Gnarly Rae Jepsen, Toaster Brutal, and Fresh Meat Caro pose after a hard morning's work – October 2018
The Gainesville Roller Rebels recently joined the Gainesville Greenway Challenge to remove invasive plants from Palm Point Nature Park in an effort to restore natural habitat in Gainesville.
Charity Raffles
At each bout, GRR donates the proceeds from raffle tickets to local charities. Past recipients include:
Want to be our featured charity?
If you're interested in us working with your charity or community organization, please contact us at:
Email (Preferred)
info@gainesvillerollerrebels.com
OR
Snail Mail
Gainesville Roller Rebels
P.O. Box 12679
Gainesville, FL 32604