Trouble Helix # 23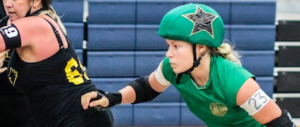 What's the inspiration behind your derby name? DNA! I get very excited about science and I have a genetic component in my master's thesis, so it seemed appropriate. I can't take credit for my name though, my very creative best friend is the mastermind behind it.
What is your day job? I'm a master's student in Fisheries and Aquatic Sciences at UF.
What quote summarizes your outlook on life? "Our greatest fear should not be of failure, but of succeeding at things in life that don't really matter." -Francis Chan
What position do you play and why? Blocker. I like being able to play offence and defense and I like all the strategy that is involved.
Why did you decide to attend the GRR Recruitment day?  I love sports, especially contact sports. I've always played sports – soccer growing up, rugby and water polo in college. I was really excited when I learned about roller derby. It's great that roller derby is a sport that you can participate in once you are out of school.
What has been your favorite part of being on the team so far? The comradery. The people on the team are great.
What advice do you have for anyone who may be interested in joining GRR? DO IT! And stick with it. It can be really frustrating and discouraging at first. Skating is hard. But you'll learn so much so fast and you'll be amazed to see how far you have advanced in such a short period.
What's your favorite derby move that you've learned so far? Chestle Capping, because it's fun to say and who doesn't love taking multiple people out?
What kind of wheels are you skating on? Atom Jukes
Aside from roller derby, what are you passionate about? Nature!
Likes: Coffee, biking, being outside, tempeh tacos
Dislikes: Pedestrians, calls from telemarketers