"Extreme fringe-shaking immediately followed."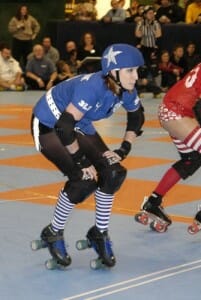 May 2010 Rebel of the Month
Roller derby name and number: Patsy Clothesline #3LD
Roller derby position – on the track: I like switching between jammer and pivot to keep things interesting, but I'll play wherever my captain needs me. I just love being on the track.
Roller derby position – off the track: I currently act as quasi-team mom and I'm officially the league seamstress, but I also occasionally do our laundry and organize the sweep/mop crew for our practice floor. We are truly a DIY group!
How long have you been playing roller derby for GRR? I'm one of the founding class of vets. I started in December 2007. (Note: Patsy is also former vice president/inter-league bout coordinator.)
How did you come up with your name and number? After my first choice ("Copperhead") was taken, my husband dubbed me Patsy Clothesline. 3LD is the acronym for his crunky-tonk band, Three Legged Dawg — I stole it from him.
Do you have any pre- or post-bout rituals? I eat a huge bacon cheeseburger for lunch the day of the bout and nothing else after that — or else I vomit.
What is your favorite thing about playing roller derby for GRR? The friendships I have built on the league. I would do just about anything for them. Plus, I get to wear sequins and fringe on a regular basis!
What is your most memorable GRR roller derby experience? One time while jamming, I was able to get through a hole and knock down two defending blockers at once. Extreme fringe-shaking immediately followed.
If your roller derby alter-ego had a theme song, what would it be? "Shake, Rattle and Roll" by Patsy Cline (of course!)
Aside from roller derby, what are you passionate about? My kid, my husband and making beautiful clothes
What would GRR fans be surprised to know about you? I'm really very shy, awkward and klutzy.
What makes you a Rebel? I'm a little "r" rebel because I've never been one to settle for mediocrity, and I'm a big "R" Rebel because I believe in the mission statement and outstanding character of this league and its members.
Likes: True friends, sparkles and fringe
Dislikes: Signs that misuse apostrophes and people who confuse personality with character
Guilty pleasures: Chili cheese dogs from Checkers and iced raspberry coffee from Starbucks (not necessarily consumed together)