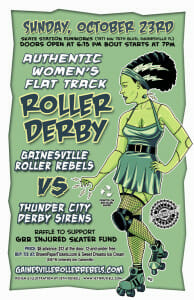 It's our 2nd to last bout of the 2011 Season! Come watch the Gainesville Roller Rebels take on the Thunder City Derby Sirens from Deland, FL. Last time our leagues met, Thunder City played and won the Millhopper Devils in a hard fought match. They'll be playing the Rebels now and the Rebels want revenge!!
Don't miss out on the action!! Come out to Skate Station Funworks on Sunday, October 23. Doors open at 6:15pm and the bout starts at 7pm. Get yout tickets from Sweet Dreams Ice Cream, Skate Station Funworks, and BrownPaper Tickets.com
A raffle with some great prizes from some of our sponsors such as BobbyK, Gainesville Detailing, Adam's Rib Co, and Anthem Tattoos, to name a few,  will be held to help GRR's Injured Skater Fund. This go round the proceeds will help the Jamburglar get back on her feet after a serious injury at our home bout vs. Ft. Myers Derby Girls.
See you there!!