THE BASICS
What is your derby name? Foxxi Blackheart
What is the inspiration and story behind your derby name? I wanted to incorporate something from Joan Jett & The Blackhearts into my name because I have been a huge fan of Joan Jett since I was a wee badass. The Foxxi just seemed to give it a nice ring and I like the way Foxxi B rolls off the tongue.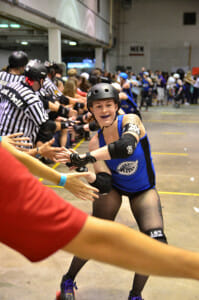 What is your number? 206
How did you get involved with roller derby? A good friend of mine, Zelda Shagnasty #69, played roller derby years ago and continually tried to get me to play. After about a year of her nagging I finally agreed to give it a shot if she taught me how to roller skate first.
What is your pre-derby sports/skating background? I played sports when I was younger, mainly softball and lacrosse. As a child, I only ever skated about a handful of times. So learning to skate was the first step of playing derby and it was well worth it. Sometimes I am still shocked that I even know how to roller skate.
You have been coordinating GRR fundraisers and events for a while now. How did you come up with some of the ideas and what is your favorite fundraiser you've put together? A few ideas I stole from previous Fundraising Committees and other ones came from skaters that worked with me on planning events. Obviously, Beerlympics is a favorite of mine. It takes a lot of planning but always has a great pay off and is so much fun, whether you are participating as a team or just spectating and helping out.
You have been a valued member of GRR both as a skater and as a board member. How has being on the board changed your perspective of roller derby in general? Serving on the Board has really opened my eyes to how much work goes on behind the scenes for each and every derby league. I think most fans and even new skaters think we just show up to practice, skate, work hard, and bout. While those are all important aspects of our sport, there is the business of it all that takes place behind the scenes. In addition to the 10+ hours every skater dedicates to practice and outside training, there are another 10+ hours each skater is dedicating to Board duties, Training Committee, or other various important committees. We work as a team and skate as a team, every skater plays an important part in making our league successful.
This is your last month with GRR before you move out of Gainesville. What are some things you learned from your time with GRR? During my three years with GRR I have learned so much. I have learned how to skate, play derby, the business of derby, how to be an integral part of the team and support each and every team member in the role they play. I have also learned that my boutfit shorts are shorter than I expected, photos don't lie. However, the most important thing that I have learned is that as an individual we are our own toughest critic and you need to listen and accept the compliments and constructive feedback your teammates give you. Through the feedback you learn how to improve your game and through the compliments you truly realize how far you have come since that first day as Fresh Meat when you strapped on a pair of quads and pads praying you wouldn't let your father down by "messing up your pretty face."
Any good memories or stories you could share? This one time in New Orleans I used our announcer, Glypher, as a human shield during a shooting. It's all fun and games until someone gets shot. (Please do not let this deter you from playing derby. This is not a normal occurrence and overall the trip was amazing!)
BOUT TIME
What is your position of choice? Blocker
What is your skate gear of choice? I wear Ridell skates and a mix of Triple 8 and Atom pads.
Do you have a pre-bout ritual? Put on my boutfit, ensure my booty looks good, and try to not be completely shaky and nervous during warm-ups in front of the crowd.
What do you think about when you're lacing up your skates? Haha, honestly I hope my laces don't break. Then I start to think about stops and engaging my edges, keeping back the other blockers and opposing jammer.
How would you describe your derby playing style? I play conservatively, which isn't always the best strategy in derby. Over the years though I have learned how to become more aggressive on the track, cut loose, and be a more integral part of the pack.
What is your signature move? Doing anything!
NON-DERBY LIFE
What is your day job? And how, if at all, has it contributed to your experience of roller derby? I work at the Florida Book Store (for a few more days) as a retail manager. If I didn't have this job I would have never joined derby. It is through working at FBS that I met Zelda Shagnasty, who nagged me into giving derby a try.
How has your involvement in roller derby affected the way you live the rest of your life? Playing derby is one of the most emotional things I have ever done in my life. And I think through this experience I have learned how to be more open with people and be a bit more in tune with my feelings. I have always been a pretty confident person but a bit shy around new people, roller derby has taught me how to be more open with new people I meet and has given me a great conversation starter.
How do you find a balance between your derby life and your "real" life? Balance?? I am a very driven person and constantly need to be doing something to keep myself busy, entertained, and not bored. Becoming more involved in derby was easy for me since I function better when I have a million tasks that need to be completed. Every now and then though you need to just step back, take a deep breath, and remember that being involved with roller derby is something you love to do and it should not be something that stresses you out.
What advice do you have for girls who want to join roller derby? DO IT! It doesn't matter if you can't skate, or you aren't athletic, or you are scared. If you want to do it, just do it. It may not be for everyone but you will feel so much better about yourself if you give it a try. It's an amazing sport that comes along with an amazing group of derby people that are instantly become your friends. Warning: The sport will consume you, but it's a great feeling!
Do you have a special message to your fans? Come see me in Pensacola!
Is there anyone that you'd like to thank? Zelda for making me play, Mom for coming to all my bouts, Dad for always calling me and wishing me luck, Glyph for taking a bullet for me, and all the skaters that have been a part of GRR in the 3 years I have been playing. This has been a great experience and everyone played a crucial part in teaching me how to skate, play, fundraise, and serve on the Board. I only hope I have contributed as much to you and I have taken from you.
LET'S PARTY!!!