What is your derby name? CounSlayer (But I like to go by Slayer)
What is the inspiration and story behind your derby name? In my "day job", I'm studying to be a counselor. Counselor…. CounSLAYER. Get it?
Do you have a favorite quote? Respect your struggle. You are enough.
How did you get involved with roller derby? I've always enjoyed ice skating and did figure skating when I was younger. And as cliche as this sounds, I remember watching the Ellen Page movie about roller derby, Whip It, and thought it looked really bad ass. I knew we had a team in town and when I saw them flyering at Gainesville Pride I made it a point to ask them about joining and luckily for me there was a boot camp coming up. I've been hooked since. 🙂
BOUT TIME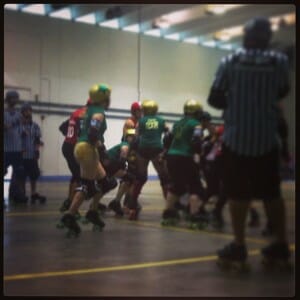 Do you have a pre-bout ritual? I get crazy anxious before bouts, so anything to distract me helps. My new favorite thing to do is having a dance party with my teammates and power posing.
What do you think about before the whistle blows? Where is the hole???
NON-DERBY LIFE
What is your day job? And how, if at all, has it contributed to your experience of roller derby? I'm in grad school, getting my Master's degree in School and Mental Health Counseling. I'd like to think my counseling background has made me a more understanding teammate. I try to stay positive and help my teammates feel heard, respected, and included when I can.
How has your involvement in roller derby affected the way you live the rest of your life? Derby is my therapy, pretty much. It gives me a release and sense of community that can be hard to find post-undergrad. I struggle a lot with being assertive, but the empowerment I get from playing this sport has helped me a lot in that department. I feel more confidence in myself now. Additionally, I think playing derby has made me more comfortable in my own skin. My body image has increased tremendously, I think partly from my increased confidence but also because ALL body types are welcome in derby.
How do you find a balance between your derby life and your "real" life? Being involved in GRR gives me more structure. Yes, it is time consuming, but I'm a lot more productive when I'm busy. Having this sport gives me balance. Also, I think it's important to learn and communicate your boundaries and how to say no to things when you need to.
What advice do you have for anyone who may be interested in getting involved with GRR? DO IT. It may seem intimidating to get involved, but we are so grateful to anyone that helps out in any way they can. This is such a great community to be a part of.
Do you have a special message to your fans? I love y'all! <3
Is there anyone that you'd like to thank? Everyone really. All of my captains for being patient and putting in all of the time and energy into making our team better. All of the skaters for inspiring me to be a stronger person and skater. All of my friends who have come to my games and patiently listened to me talk non-stop about derby life. I am so grateful to have all of you in my life.