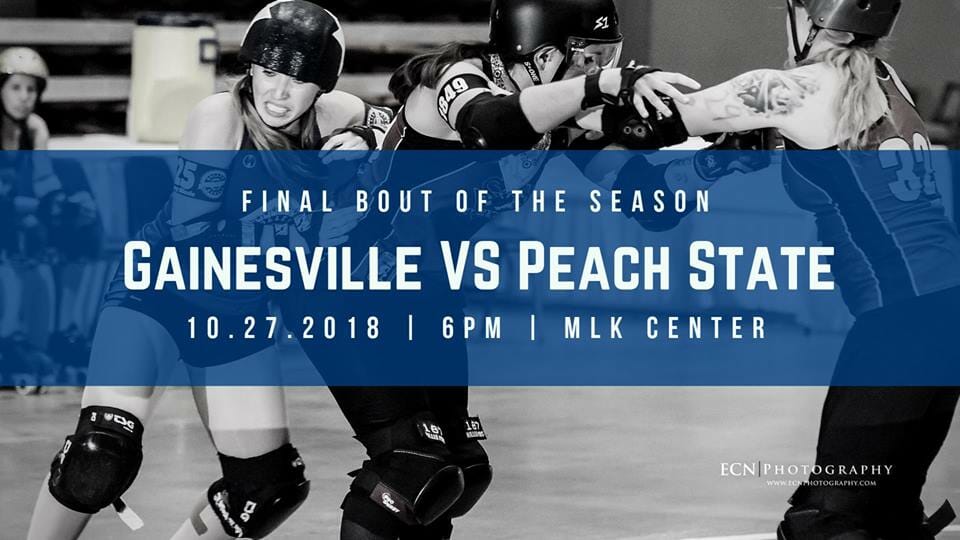 In this SPOOKY bout, our very own Gainesville Roller Rebels All Stars will be taking on Peach State Roller Derby All Stars in our final home bout of the season!
Doors open at the MLK Center at 6 PM and the action starts at 6:30 PM. Tickets are $8 in advance and $10 at the door. As always, kids 12 and under get in FREE.
Keep your eyes on the event page to find out what spectacular halftime show we have planned.
Raffle tickets will benefit Bread of the Mighty Food Bank!
Tickets will be available soon from Volta Coffee, Tea & Chocolate, Sweet Dreams of Gainesville FL. or Brown Paper Tickets: https://www.brownpapertickets.com/event/3657498
After the bout, join us at Gainesville House of Beer for our after party and pizza! Huge thanks to our Jammer Line Sponsor this season, Elevate Fitness & our Stitches Level Sponsor Anatomic Body Piercing!!